You Can Find the Best Spa Table at Comfort Craft
Are you looking for the best spa table for spa treatments and pedicures? Well, look no more! Comfort Craft has a line of ergonomic tables ideal for both clients and massage therapists/masseuse/manicurists. However, the table most suited for a spa workplace is Comfort Craft's table model 200 PSU. Not only is it ergonomic, but it can be adjusted to your liking and your client's comfort, making this table the best spa table around! To learn more about Model 200, continue reading!
Model 200
Comfort Craft's Model 200 PSU, with electric sit-up and high-low adjustability, is ideal for spa and bodywork services. Dual soft-touch foot controls allow ease of adjustability. Moving from flat to a 75-degree sit-up position, Model 200 PSU is perfect for a variety of treatments, including spa treatments, prenatal massage, and for treating elderly patients or those
with back ailments. The Model 200 can be raised to standard massage height or adjusted to any height appropriate for the service being performed. Model 200 PSU is built for versatility with a very low or high working height, low or high armrests, and minimal foot interference.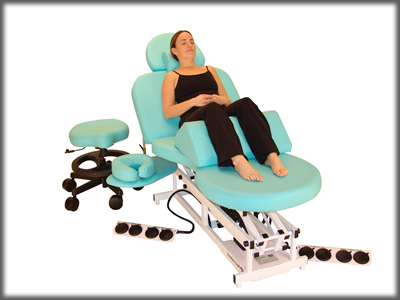 A Couple of Advantages of Having Model 200
As with any Comfort Craft table, you gain several advantages when you use Model 200 for your spa workplace. Some of those advantages are:
Ergonomic comfort with sit-up adjustability

Bolster supports the legs of all height patients

Exceptionally stable when flat—ideal for deep tissue massage

Armrest swings away, giving the therapist leg room

Face rest switches to head rest with neck pillow
These advantages ensure that you and your clients are in the most comfortable state during a spa massage, pedicure, or other treatment.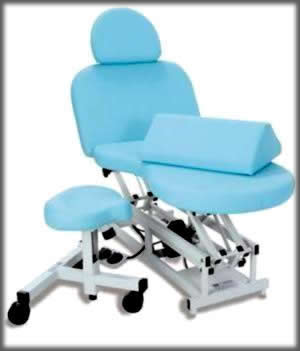 Specifications
Comfort Craft's Model 200 PSU also has its own specifications that make it the best spa table you can possibly invest in.
Top of wood height at lowest point is 17"

Top of wood height at highest point is 31"

Maximum weight lift from lowest point – 700 lbs.

115 Volts Standard AC, 4 Amps

3" of laminated foam

5 year frame warranty

Air operated foot controls

Standard 8 ft. power cord

All UL approved components
Why spend money on a spa table that will keep you and your clients uncomfortable during spa sessions when you can invest in the best table around. Comfort Craft's Model 200 PSU is simply the best spa table you will find. Not only is it ergonomic for your clients, it is ergonomic for you too!