You work hard to alleviate stress from your client's body, so why not let the Comfort Craft table work hard to alleviate stress, and help energize your own body----while you work. You can change your life and the way you work by purchasing the greatest tool designed for Massage Therapy.
Client Benefits: Improved treatment and comfort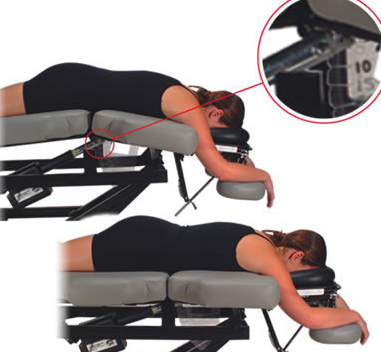 The Comfort Craft table offers your client a new sense of comfort and aids in the relaxation process. A flat table puts the lower back in compression, but with just the touch of a button, your Comfort Craft table relaxes the pressure on the lower back by raising the mid-split to 9 or 10 degrees. By releasing the compression from the lower back, this area can now fully relax, allowing the therapist to open up the back area with little effort. Relaxation is enhanced in the shoulders and upper body by bringing the arms forward and resting the forearms on the multi-positional adjustable arm rests. The client can adjust their arm positions during treatment for maximum support and comfort. The whole face is supported with an adjustable headrest. As the back decompresses and opens up, the head must have room to move forward and not be jammed into a face pillow. The full-face pillow and sliding headrest offer greater comfort during a treatment as the client's head can float in and out to improve decompression of the spine.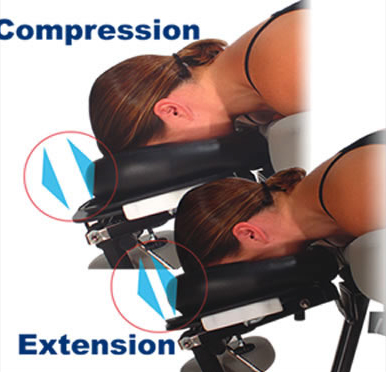 Therapist Benefits: Reduce your efforts by Half!
The Comfort Craft Table is a tool that allows you to work more efficiently with less effort while providing your client with an enhanced level of treatment. This tool will change the way you position your body during a treatment as well as your clients, reducing your efforts by 50%. The dual foot controls allow you to raise or lower the table quickly and easily, giving you the ability to work with a straight arm and apply your weight directly through your arms by relaxing your knees. The table shapes allow you to step in and work specifically into the center of the body without bending or straining so you can use your weight, not your muscles.
The "T" Base stool offers ergonomic positioning of your body so that your knees are even or slightly above the hip in the strongest seated position. Your arms can now be parallel with the floor, eliminating tension in your own upper body. Once properly seated in front of the client, you are able to position the client on your lap for easy neck and shoulder treatment. The dropaway headrest gives the therapist the ability to move the head in any direction and allows you to support the head with ease by your wrists, which rest on your knees.
Professional Investment: What would you do with $8,000 more per year?
As a professional massage therapist, you invest in yourself with additional training for CEUs and new modalities. By working smarter, not harder, you can increase your business and your income. Start by selecting tools that will help you perform your trade and also extend your career. The best tool is a table created by and for massage therapists that will improve treatments. We can help you perform services that can only be done on the Comfort Craft Model 800 or Model 300. The technical advancements of our tables will make a difference that will keep your clients coming back, and take the strain out of your day-to-day routine. As a result, you can charge $10 more per treatment, book one more session per day, and increase your gross by $10,000 * per year for a one time investment of $2000 (see tax credit).
What would you do with the additional $8000 more per year?
*Based on 20 treatments per week for 50 weeks in a year.
Long Term Equity Value: Made to last
Comfort Craft tables are made to last, thereby holding their value. Model 800 owners, after 5 years of use, have been able to sell their equipment and receive back 70-80% of the original purchase price. Can you find anything else that can reduce your work effort by 50 % and still hold its value?
Learn how you can receive approximately 2/3 of your original equipment price back at tax time with the direct tax credit. (see tax credit information on this site).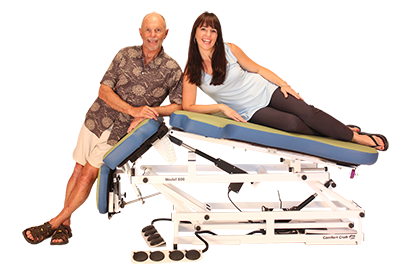 Custom Design: Built for you!
A Comfort Craft Table is not a mass-produced generic product but is a custom creation, designed by you and a well-trained company representative, built to accommodate your needs as well as those of your clients. The design criteria is established by analyzing your type of work, the type of people you work on, and your work space. We do not believe one size fits all. Talk to one of our specialists regarding our simple solutions that make your work easier and more satisfactory. Our staff is here to work with you, not only in selecting your table, but to offer continued customer service support.